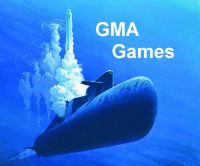 Games designed to be fully accessible to blind and visually impaired individuals. GMA concentrates its efforts on developing sophisticated Windows-based games, while keeping its prices affordable.
Demos are available for all of our games.
Mail Lists
If you would like to be informed from time to time about any news at GMA, or new game releases, subscribe to our Newsletter list.

As well, we have created a mail list to facilitate the discussion of GMA games. Topics will include the exchange of tips, help for beginners and more advanced users, technical problems, and a little bragging or complaining regarding game play performance.

There is a separate list for discussion of the VIP Mud client. Topics may include writing scripts, discussing favourite Muds, help on the Use of VIP Mud, feature requests, and general Mud related topics.

If you are interested in any of the above lists, contact us through the "Contact" link above requesting to join one or more of the lists and we will send you the Email addresses to subscribe. We have taken this step to reduce the amount of spam getting through to the list.

Thank you for visiting. This page and all its content is copyrighted © 2008 by G M A Games, Inc.